SOUL REMAINS by Sam Hooker ***Guest Post: When Not to Write -- Giveaway***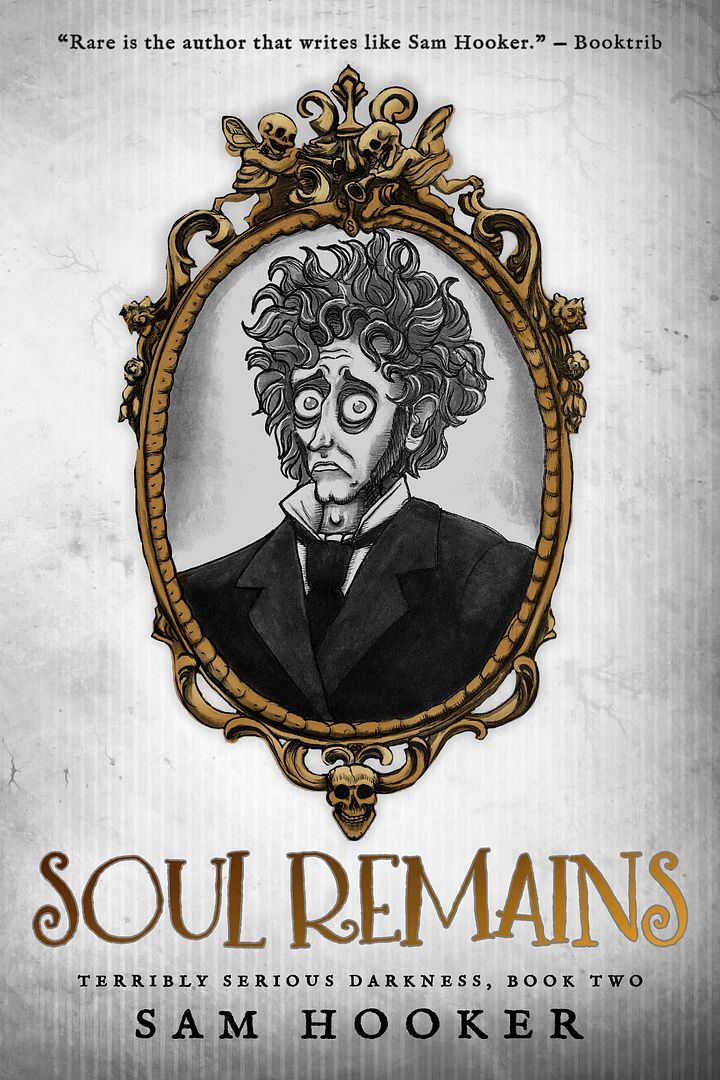 Fantasy (Humorous)
Soul Remains
Date Published:

23 April 2019


It's Dark in the Old Country.
Where do goblins come from? Why do they only turn up in the Old Country, and why do they like swearing so much? In the second book of Terribly Serious Darkness, Sloot Peril—a "hero" who's staunchly averse to heroics—goes searching for answers. Much to his chagrin, he finds them.
Everything changed after the Fall of Salzstadt, but try telling that to the people of the city, whose capacity for denial is unmatched. They have yet to acknowledge that Vlad the Invader cut a bloody swath through their city, that the dead are walking the streets, or that the Domnitor—long may he reign—has fled to wherever despots go on very long vacations while goblin infestations take care of themselves.
The worst of villains holds all of the power, unspeakable dark forces are on the rise, and everyone wants to kidnap the Domnitor—long may he reign—for their own nefarious ends. If all of that weren't bad enough, Sloot's got the fate of his own soul to worry about.
Can his girlfriend help him save the Old Country from annihilation? Is Myrtle really his girlfriend? If all goes well for Sloot—which it never does—he might just sort it all out before the Dark swallows them all up.
Guest Post
When Not to Write
When you first start writing, they tell you an old maxim: "A writer writes." It's true, in the most obvious sense. It's also the only qualification to be a writer. Being a good writer is another thing entirely. In addition to possessing the skill of writing things that people want to read, a good writer knows when not to write.
Of the innumerable things that might make a day good or bad for writing, the first one that comes to most people's minds is inspiration. On some days, it's a roaring river. On others, it's barely a trickle. The muse may grab us by the face and lead us to the page when it wants to work, but it doesn't always let us know when it's taking a personal day.
Then there's opportunity. Authors need time to write, a place to do it, and the tools of the trade (a computer, a notebook and pen, or a typewriter for the dedicated hipster). Take away any one of the three, and opportunity is lost.
Furthermore, our lives follow us into our work. Physical ailments, finances, family matters, the fact that we'd rather be playing video games and eating Fruit Roll Ups – on some days it's easy to push it all aside and concentrate on the story. On others, the weight of the world is too much. Any author can lack an appetite for the craft, simply not be in the mood to write.
Inspiration, opportunity, and mood. The essential salts of an author. (That's a Lovecraft joke, and a fine one at that.) When all three are in order, we can get on with the business of giving people something to review on Goodreads. Take away any one of them, and there may be nothing written that day.
Opportunity is a hard stop. Without the time and the means to write, that's the end of that. We can often overcome a lack of inspiration or mood, though. Here are a couple of my personal favorite ways of doing that:
1.
Free writing
is simply sitting in front of a blank screen or page and writing down whatever comes to mind. It doesn't have to be good, and it shouldn't have anything to do with your manuscript. Do it for 10 minutes and see if it gets you started.
2. Set a timer. Write for 15 minutes, or 30 if you've got the gumption. Don't worry about your word count, you get as far as you get. When the timer goes off, keep writing if you want, or decide that you've tried your best and today simply isn't the day.
The trick is knowing when it's okay–or even better–not to write. Writing when your inspiration or mood simply aren't on your side can result in mediocre work that you'll just have to delete later. If you'd really prefer to binge a Netflix series, that may be the mental decompression that you need to set yourself up for a great day of writing tomorrow.
That's not to say that you should wait until everything is perfect to write. Even on low inspiration, you may write something that's half good, knowing that you can go back and make it great later. The only thing you can't edit is a blank page.
From time to time, you will write something awful that takes the story in the wrong direction. It happens to all of us. Whether it's 100 words or 10,000, if it's all wrong, a good author will delete it and try again. If you're lucky, going down the wrong path may help you find the right one. If not, at least you know one path to avoid.
There's a lot of "publish or perish" advice out there. If you read enough productivity blogs you may start to feel that if you're not writing 2,000 words an hour, 24 hours a day, you're a failure. Don't fall for it. Write at your own pace. Push yourself when you need to be pushed, and take a break when you need a break. Experience and your gut will tell you which and when.
About the Author
Sam Hooker writes darkly humorous fantasy. He is an entirely serious person, regardless of what you may have heard. Originally from Texas, he now resides in southern California with his wife, son, and dog.
3 signed copies of Peril in the Old Country, the first book in the series.