OF METAL AND EARTH by Jennifer M. Lane ***Excerpt***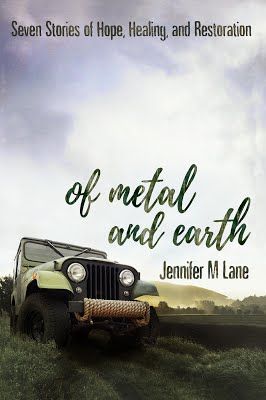 Date Published
: July 19, 2018
In 1964, a rural town is rocked to its core when only one young man returns from Vietnam. Emotionally scarred, James hides from their pity and only finds the determination to lift himself up when he realizes what remains to be lost. He buys a little green Jeep, like the one that gave him shelter in the war, and hopes it will lead to salvation again. But the fortune it brings tarnishes, and James is left to sacrifice the thing that gave him hope for the people who need him most.
Over the next thirty years, the Jeep changes hands, passing between friends, family, strangers, and lovers. A single mother who buys a car for her reckless son nearly destroys a friendship with a man who silently loved her for two decades. An insecure youth at the start of his career learns that the most important lessons are the ones you never set out to learn. A family torn apart by their differences finds that love can be the hardest road to take. And a city architect must choose between the easy way to restoration or a difficult path that could save far more than just a rusty old Jeep.
Fans of THIS IS US, MITCH ALBOM, and NICHOLAS SPARKS will enjoy this heart-warming tale of restoration and redemption, a must read book for anyone inspired by the the resiliency of the human spirit.
Read Chapter One
Dirt. Bullets of rock. Tree and plant and bone showered James in a hailstorm of earth. It smelled like hot metal. They'd prepared him for a lot before they shipped him off to Vietnam, but nothing prepares you for that much blood.
He wiped his face with the back of his hand, the copper taste of flesh and gore washing over his tongue. Not his. Someone else's. There wasn't time for his stomach to lurch, to give in to the question of which flesh. Whose blood.
James ran for the Jeep, one hand on his helmet, hot from the sun and pitted by the enemy. The other clutched a gun that was no match for artillery. He rolled beneath the Jeep.
Squinting through smoke and dirt, trying to focus while the sky settled, all he saw was earth, strewn red with flesh in strips and slabs. A foot. A finger. Andrew. Norman. David. Indistinguishable.
They weren't supposed to be here. Four friends volunteered. Three followed. Tom stayed home to work at the bar with his dad. James should have stayed. They all should have stayed. If only he could close his eyes and wish Elk River into focus, but he needed to see, to make out the forms of his friends, what was left of them. Thirty men. Seven childhood friends. No one could have survived this.
Calling out to check would give him away. He wouldn't hear their reply, anyway. His hearing had dropped out when the shells fell, heightening his sense of smell. Bile and blood. James buried his face in the grass, playing at death as it gripped his company. He waited for salvation. He didn't care what kind.
* * *
James wore his fatigues home from Vietnam, more a habit than a choice. The bus rocked from side to side. Beside him, a woman tucked one magazine into her bag and pulled out another. Premier Kháhn from South Vietnam painted on the cover of Life. Her hands moved constantly, thumbing through pages and digging through her giant bag for hard candies and mints, which she offered to James with a running commentary on the state of the world.
The motion of the bus should have been calming, but there was nothing to calm. The closer James got to home, the more aware he became of the things that should bother him but didn't. His chest was an empty pocket where sadness and pain should have been. He focused on the back of the seat in front of him, concentrating on the ripples in the leather. Little rivers, black with dirt. Maybe fifteen miles to Elk River? With the exception of the trip to Vietnam, James had never been so far from town. He was tempted to ask the lady next to him, but she'd only spoken at him, not to him, and James wasn't ready to open the door that he'd closed between himself and the rest of the world. At least she wasn't a war protester.
"Did you see this? John Glenn wants to be a senator." She flipped through the pages. "There are protests everywhere. Segregation. I read that a group of boys in New York burned their draft cards. Where did you say you were heading?"
James craved quiet, but he didn't want to be rude or invite sympathy. "Just heading home." His mouth was dry, and his voice sounded foreign and distant.
She paused, turning up her nose at an ad for Hamm's beer and playing with her cocktail ring, a chunk of turquoise surrounded by little blue and clear stones. She reminded him of someone's grandmother with a pillbox hat and an oversized blue dress that looked like curtains. She smelled like mothballs and cheap perfume. "A few minutes ahead here is tiny little Elk River. It was on the national news for losing all those boys. Such a rare thing for so many who knew each other to end up in the same platoon and then to lose so many at one time? Tragedy. They're talking about ending the Buddy Program."
James pulled in his elbows, a protective measure. "National news, huh? Tom Brokaw?"
She chewed her lip, flipping past ads in the magazine. "And Walter Cronkite. All of them. I know a man in Elk River. He owns a hardware store. Actually, I knew his wife, but she passed away ten years ago. Goodness, he must be ninety years old by now. I think it's next to the diner." She pursed her lips and shook her head. "I've eaten there so many times, and now I can't remember the name of the lady who runs the place. Anna, maybe. Or Amber."
"Angie. It's down the street from the hardware store, but yeah. Angie." James kept his eyes trained on the wooded horizon. He'd heard little from Elk River. Just a letter from Tom offering him a place to stay, saying that his mail was at the bar and how hard it had all been on the town. Tom hadn't mentioned anything about the national news. James didn't want to ask about the town, to invite questions he'd have to answer or sympathy he'd have to assuage, but he needed to know what was on that horizon. "What's it like there? Media camped out downtown?"
She wrinkled her nose and fumbled for words, which she offered in sing-song sympathy. "Um…It's been a tough time for that little town. Our church went down to offer some support. There's a lot of pain. I think most of that town lost someone." She offered a sad smile to her magazine. "They'll be glad to have you back."
James took in a long slow breath, letting air fill so much of him that there was no room for emotion—if any decided to show up.
Someone at the back of the bus sneezed. Another offered a blessing. Both felt like the spread of disease to James. He shifted in his seat, searching for elusive comfort for his weary bones. "It's been a long trip. Do you mind if I tune out for the last leg?"
"Of course. Listen to me, prattling on. You've had quite the experience. I have a whole pile of magazines here. I'll just let you be." She lifted her hand and patted his knee with her painted nails and giant ring.
James leaned away and held his breath for as long as he could to keep from fogging up the window. There should be fear in there somewhere, but a numbness kept the world outside from coming into tune, like radio static. What would he say to them? What would they want from him? Would they want to know what he saw? Would they want to hear the last words? There weren't any. What would they expect from him? Sadness? He didn't have enough for himself, and he certainly didn't have any to spare. Their questions, what he expected they'd ask, came at him fast. He tried to prepare answers, create a procedure for handling them.
He stopped trying. He didn't plan to talk to anyone, anyway.
Rolling hills melted into farmland, into patchwork quilts of corn and soy. Valleys dotted with sheep and cows. The houses crept closer to the street and each other until they were closely packed.
Everyone who lived there was touched by the loss of someone in the war.
Downtown appeared in the windshield. The bus passed his father's house, and he looked away. The faintest shadow of loss passed over him, but he couldn't grasp it.
Not ready for that yet, he thought. The smell of the house, of sawdust and varnish. Of a future and a family he expected to come home to, if only his father's heart hadn't given up. Unexpected shrapnel from home.
Let's just hope that Tom has a comfortable sofa. Something better than that cot he'd slept on at Tom's when they were kids.
The brakes squealed at the only red light in town and the bus gave a gentle lurch forward. The Methodist Church sat adjacent to the Baptist Church. James had never been inside either. A carefree group of boys dashed out of the five-and-dime store, ricocheting off adults on the sidewalk like pinballs, clutching hauls of penny candy and toys. He and his friends had been carefree once, but that was a long time ago.
Almost home. He tapped his heel against the floor and ran his fingernail along the seam of his pant leg, counting the stitches, a habit he used to keep it together, though lately he was so numb and distant he wished he could fall apart. Another squeal from the brakes, another lurch, and the bus threw open its doors. The chatty woman stood and allowed James to pass.
"You take care now," she said. "Welcome home."
"Thanks for the company." James offered a weak grin and gratitude that he couldn't feel. "Enjoy the rest of your trip."
Heat rose from the sidewalk, and humidity hugged the town. An air conditioner buzzed and dripped water into a pool on the sidewalk. James stumbled onto the pavement and slung his bag over his shoulder. His boots were heavy. Running his hand along the brick wall that led to the door of the bar, he traced the mortar with his finger. He wondered how many years it would take to wear away that mortar if he ran his finger along the sandy trench every day.
About the Author
A Maryland native and Pennsylvanian at heart, Jennifer M. Lane is a resident of East Norriton, PA. She holds a bachelor's degree in philosophy from Barton College where she served as editor of the newspaper. She also holds a master's in liberal arts with a focus on museum studies from the University of Delaware, where she wrote her thesis on the material culture of roadside memorials. She once co-hosted a daily automotive blog and served as the president of a large car club. She enjoys coffee, whiskey, Earl Grey tea, and spending time with her partner Matthew and their own 1964 Jeep CJ-5.